Conference venue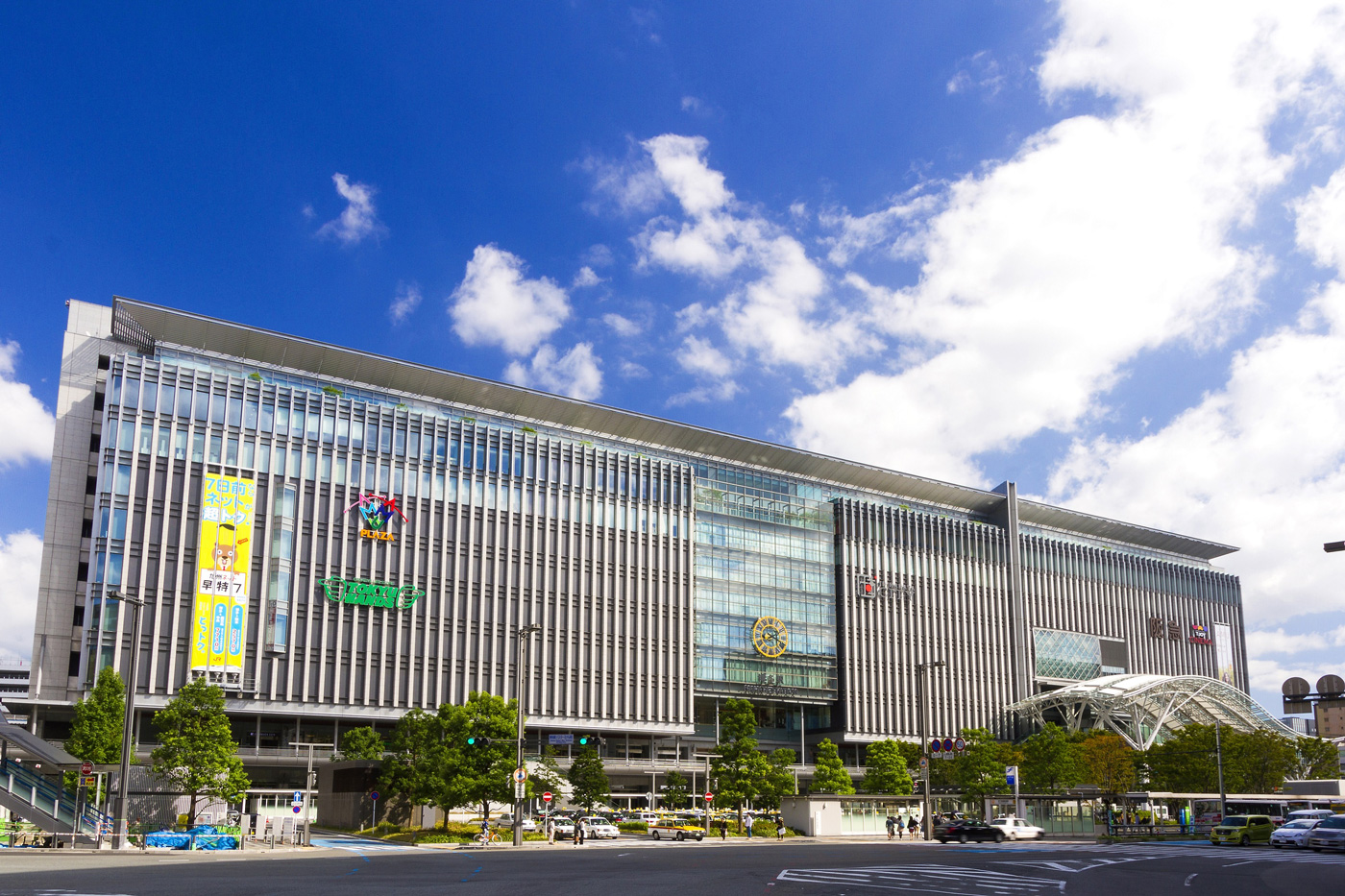 Access to Hakata Station
By train
Get off at Hakata station and you are there!
From Fukuoka Airport
From the domestic terminal

By subway: Fukuoka Airport is the terminal, and Hakata station is just the second station.
Time: approx. 6 minutes, Fare: 260 JPY. English is available at the ticket vending machine.
By Taxi: Time: approx. 10 minutes, Fare: 1,200 JPY - 1,500 JPY.
(There are two main gates in Hakata station, Chikushi gate and Hakata gate. Getting off at Chikushi gate is cheaper)

From the international terminal

By subway: Take the free shuttle bus to the domestic terminal (15 minutes) then take the subway.
By Taxi: Time: 1,200 JPY - 1,500 JPY (to Chikushi gate)
By bus: available from No.1 bus stop at the entrance of the terminal. 15 minutes, 260 JPY.
How to take a bus in Fukuoka
a. Paying by IC card
If you have an IC prepaid card sold at the airport or the train station (at the information or the ticket vending machine), then touch the IC card reader on boarding and touch again when you get off. (There are three kinds of cards sold in Fukuoka, SUGOCA, NIMOCA, HAYAKAKEN. Any of these will work for any public transportations.)
b. Paying by cash
When you get on, take a ticket from the small machine beside the door. A number is printed on the ticket.
The fare is shown on the signboard according to the number on the ticket. Pay to the driver by cash when you get off.
The bus has a changing machine beside the driver. You can break the 1,000 JPY note.
Tips
In Japan most of the shops accept the credit cards, but unfortunately at some fundamental situation credit cards are not accepted. For example, subway tickets (important!) and small restaurants (for lunch) are such examples. Some taxis do not accept cards, although most of them will accept. When you take a taxi, it is better to confirm the driver as "Card OK?" Convenience stores, supermarkets etc. will accept the cards. Anyway, we recommend you to carry some amount of cash with you.
You can draw cash from your overseas bank/credit card account by the ATMs at the convenience stores, such as Seven Eleven, Family Mart and Lawson. Those stores are located on the first floor of Hakata station, and there are many in the city. Unfortunately it seems that only a limited number of ATMs of local banks (Fukuoka Bank, Nishinippon City Bank) accept the overseas cards. Those of major banks (Mitsubishi UFJ, Mizuho, Mitsui-Sumitomo etc.) will accept the overseas cards, but it may be much easier to find the convenience stores than ATMs of those banks.
Guide Map around the Conference Room
The PDF file is also available.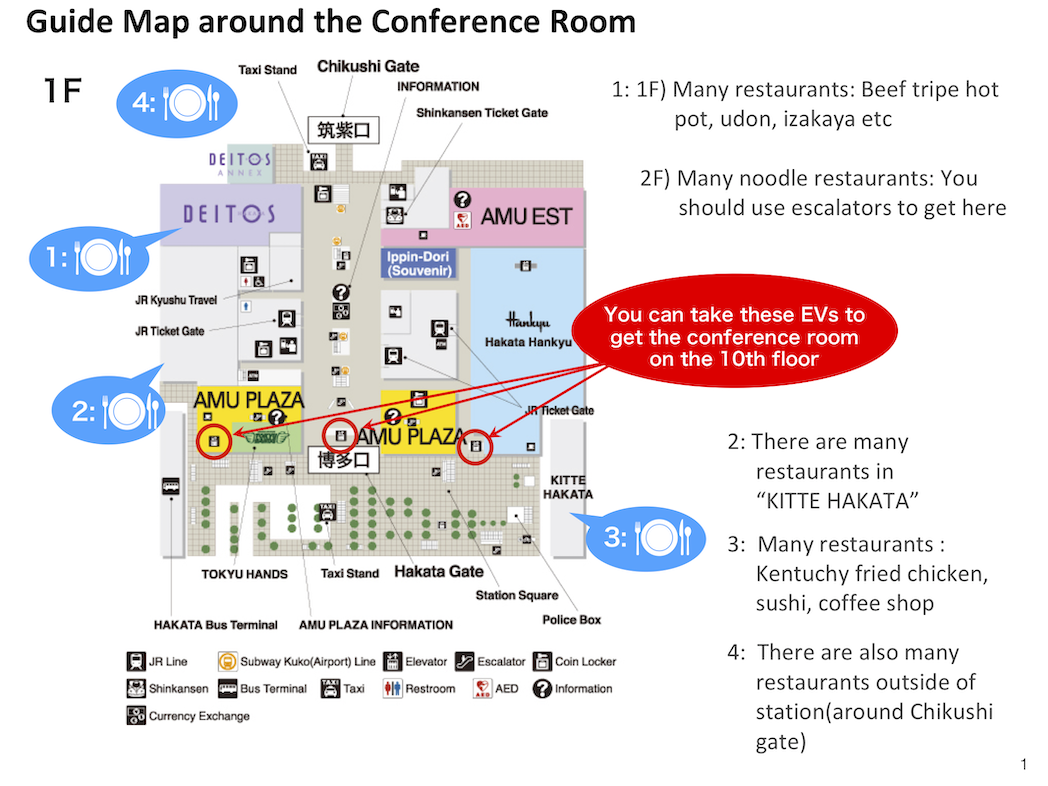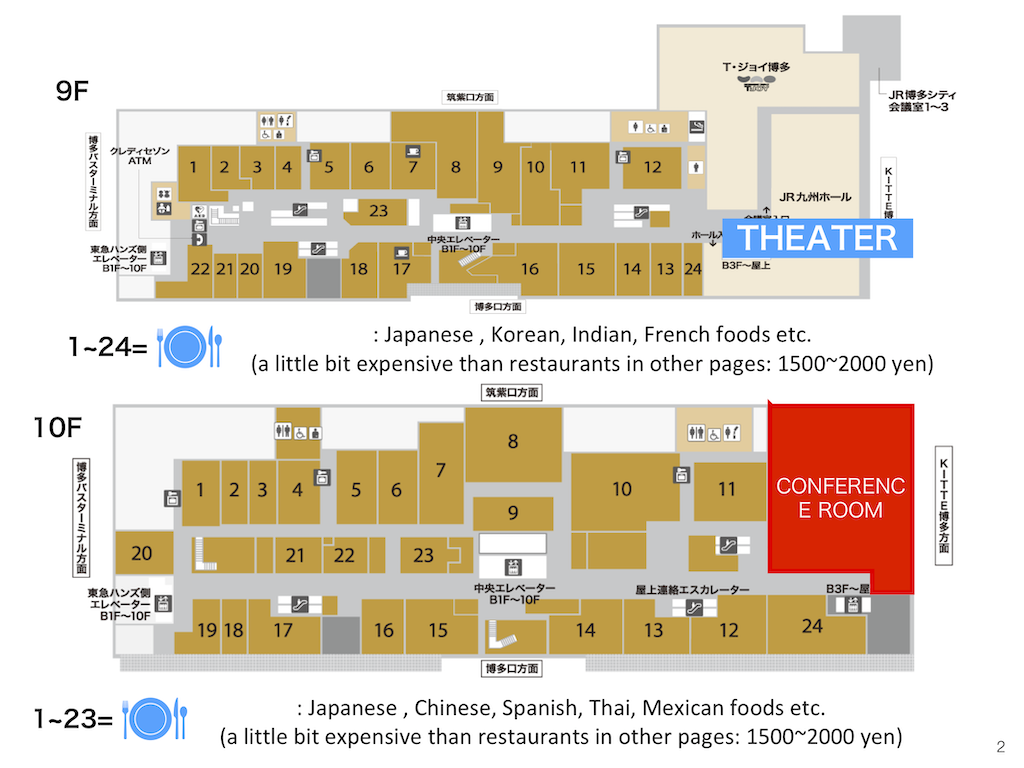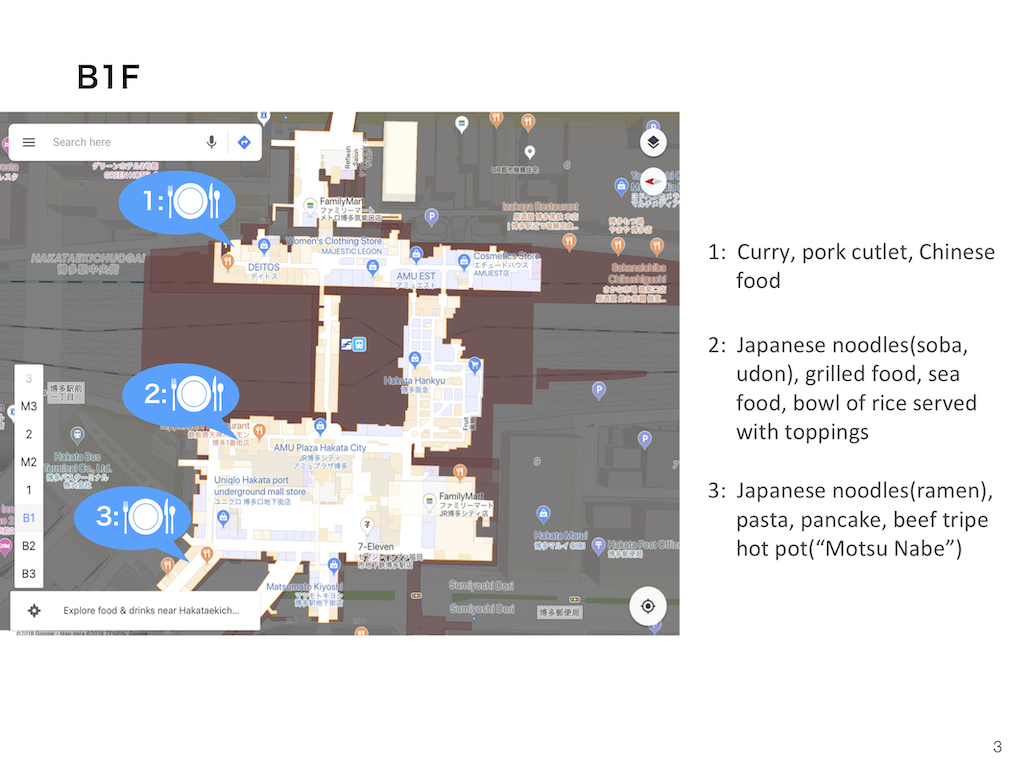 List of restaurants in JR Hakata City
In addition, there are many restaurants and delicatessens around JR Hakata City: KITTE Hakata, JRJP Hakata Building, Hakata Ichibangai, Hakata Hankyu, Ming, ...
Direction from the conference venue to the banquet venue
Fukuoka Guide